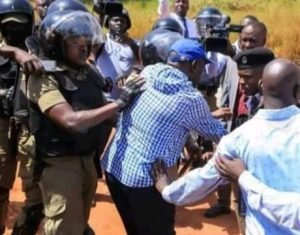 The Former leader of Forum for Democratic Change Dr. Col. Kiiza Besigye has finally been allowed by security operatives to access his lawyers at home, after a week-long house arrest in Kasangati.
Dr. Besigye who is also the leader of the People's Front for Transition has been put under house arrest, after he was intercepted by security operatives following his attempt to mobilize Ugandans to rise up against the high cost of commodities.
Police patrol vehicles have been stationed at and around Dr. Besigye's Kasangati home since Thursday last week, including one sedan car which is in front of his gate.
There is a book register where all visitors must sign before being allowed access to Besigye's home.
This Afternoon a group of Besigye's Lawyers and other members of the people's front for Transition,who had come to check on him led by Kampala Lord Mayor Erias Lukwago, Former Presidential Candidates Elton Joseph Mabirizi, Lubega Mukaku, and other leaders were denied access by security operatives saying that the visit was not on appointment.
Meanwhile after a scuffle, police and other security operatives allowed a group of only 5 lawyers led by Erias Lukwago, Gibert Nuwenyesiga and Gawaya Tegule, others including Journalists were blocked.