Central broadcasting Service Limited is a limited company incorporated under the laws of Uganda.
Broadcasting with two stations; 88.8 CBS radio yóbujajja  and 89.2 Cbs Emmanduso both located on Masengere Bulding at Bulange Mengo.
CBS is a Buganda Kingdom entity.
It started on-air broadcasting on 22 June,1996.
MISSION 
To provide services aimed at effectively transforming the lives of the people of Buganda and beyond.
VISION 
To be the communication hub of choice of all generations.
CORE VALUES
Reliable:
We deliver what we commit to our stakeholders and keep them informed of progress.
Innovative:
We are receptive to new ideas and new thinking to provide business solutions to our clients.
Efficiency:
We continuously thrive to perfect our process in order to provide quality service in all aspects.
Integrity
We are honest, trustworthy and straight forward in all our dealings with our stakeholders.
Teamwork
We value team work not only between ourselves but also with our stakeholders.
Respect
Each customer is to be treated with respect and dignity and to be treated equitably in all situations.
Central Broadcasting Service (CBS), also known as Radio Buganda broadcasting on  88.8FM and 89.2FM, transmit on 6kw and 5kw respectively, with an additional 5kw booster transmitter located in Masaka.
CBS, the largest private commercial fm radio station is owned by the Buganda Kingdom.
Housed in Masengere building next to a recognizable and historical building in Uganda – Bulange House – a unique architectural   monument located on Mengo Hill.
CBS FM is centrally located, within five minutes drive from any of the main taxi parks in Kampala, allowing access to visitors who may want to conduct business, or make inquiries directly from the source, on anything they may have heard on air.
Bulange is the seat of The Buganda Kingdom Parliament. The famous Lubiri, the Kings Palace is located within walking distance of Bulange House and Masengere building. There are a number of historical sites in the neighborhood of CBS such as; Namirembe Cathedral, Rubaga Cathedral, Gaddafi mosque at Old Kampala the first seat as Uganda's capital, and Kasubi tombs, the ancestral burial site for Buganda kings.
Hundreds of tourists visit CBS, Bulange House, Masengere and its surroundings to enrich their knowledge about Buganda history, and enjoy the beautiful panorama.
Audience and Reach
It is estimated that CBS FM commands an audience of over 3.5million loyal listeners, given the scope of the stations coverage and the fact that Uganda's population is concentrated in Buganda (over 6million people).
The station upgraded its transmission capacity when it got its own 126-metre mast. A new 10 Kw transmitter was installed (in October 2002) giving the two stations extensive coverage across Uganda's 'money belt'. In December 2005, another transmitter was installed in Masaka, designed to boost the signal strength for 89.2CBS FM in South and South Western Uganda.
Programming
CBS opened a new chapter in radio programming in Uganda by departing from what was regarded as 'popular radio' then, where all FM radio stations were emulations of American and European music radio formats. CBS started on the unbeaten track, seeking to be relevant to its audience identity and adopted the local format, with most programs being broadcast in a range of local languages, with Luganda using up most airtime on 88.8FM and 89.2FM.
Primarily 'edutainment' stations, focusing on delivery of educative information, CBS programming recognizes and emphasizes traditional and cultural values as vital pillars and catalysts in development.
Music and programs are therefore specifically packaged to reflect the desires and aspirations of the stations target audience.
Target audience

Due to the unique nature of CBS' product, It attracts all categories of listeners, with 88.8FM skewed towards adults who understand and cherish their local culture & 89.2FM addressing the more youthful audience who live the Central Ugandan culture.
CBS listeners therefore range from top policy makers, Government technocrats, the Middle class as well as locals of all walks of life.
As such, CBS is popularly known as "radio yaffe" which inferences mean the "our radio station" and "the people's own radio".
 CBS collaborates with various organizations; local and international, government ministries, and agencies, to maximize information dissemination to the general and specific audiences.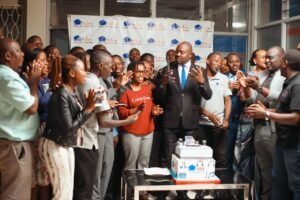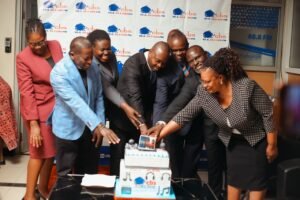 CBS FM Awards,letters of recognition and appreciation from different organisations and individuals