Neymar racism ...Neymar says he 'acted like a fool' in brawl but demands racism must stop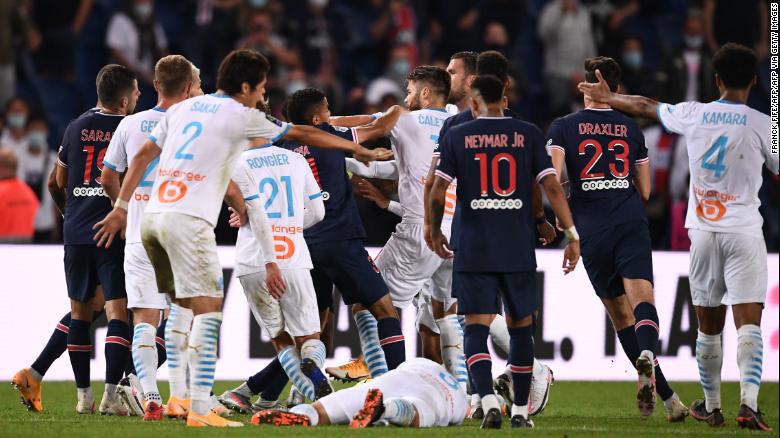 Paris Saint-Germain forward Neymar says he was the target of a racist slur during the French champions' 1-0 defeat by Olympique Marseille in Ligue 1 on Sunday. The player at the center of the storm is Marseille's Álvaro González.The 28-year-old was one of five players sent off during the match at PSG's home stadium, Parc des Princes, after a full-scale brawl broke out on the pitch in injury time.The forward struck González on the back of the head and was shown a straight red card by the referee.As he left the pitch, the forward is believed to be telling the fourth official about an alleged incident of racist abuse -- though he did not directly name the alleged Marseille player involved.
In a series of tweets following the match, the Brazilian wrote: "The only regret I have is not hitting this idiot in the face."VAR catching my 'aggression' is easy ... now I want to see the image of the racist who called me a 'MONKEY SON OF A B*TCH.' I'd really like that! If I do a 'rainbow flick' you punish me. For a slap, I'm sent off. And them? So what?"(VAR refers to "Video Assistant Referee," the system in place to review incidents in matches once the referee has made his initial decision.)
González himself took to Twitter, writing, "There is no place for racism. A clean career and with many teammates and friends on a day-to-day basis. Sometimes you have to learn how to lose and accept it on the field. Incredible three points today, Allez l'OM thank you family."Neymar then replied to González's tweet, saying: "You are not a man to take responsibility for your mistake. Losing is part of sport. Insulting and bringing racism into our lives, no I don't agree."I DON'T RESPECT YOU. YOU HAVE NO CHARACTER! Take responsibility for what you say. Be a MAN. RACIST!"