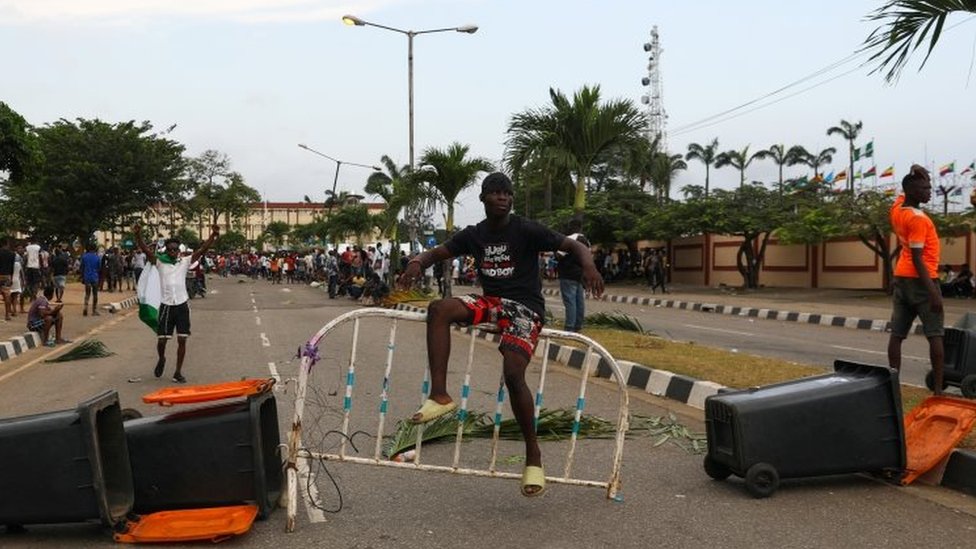 A number of people taking part in a protest against police brutality have reportedly been shot dead or injured in Nigeria's biggest city, Lagos.
A witness told the BBC he had counted about 20 bodies and at least 50 injured after soldiers opened fire. Amnesty International said it had obtained credible reports of deaths.
The authorities have promised an investigation into the shooting.
Amnesty International also said in a statement on Tuesday it had received "credible but disturbing evidence of excessive use of force occasioning deaths of protesters at Lekki toll gate in Lagos", adding that it was investigating "the killings".
Three witnesses told Reuters News Agency that the soldiers fired at the protesters who had gathered in the Lekki district of Nigeria's largest city in defiance of an indefinite curfew imposed hours earlier by the authorities. Hundreds of people were at the site at the time of the shooting, which witnesses said took place around 7pm (18:00 GMT).
"They started firing ammunition toward the crowd. They were firing into the crowd," said Alfred Ononugbo, 55, a security officer. "I saw the bullet hit one or two persons," he said.
Inyene Akpan, 26, a photographer, said more than 20 soldiers arrived at the toll gate in Lekki and opened fire. He said he saw two people being shot. Akinbosola Ogunsanya, a third witness, also told Reuters he saw soldiers remove bodies.
Earlier on Tuesday, Lagos state Governor Babajide Sanwo-Olu alleged that criminals had hijacked the protest movement "to unleash mayhem", as he announced the curfew.
As the round-the-clock restrictions went into force at 4pm (15:00 GMT), protesters in Lagos sang the national anthem and pledged to remain out on the streets.
"Are you afraid?" a man shouted to the flag-waving crowd from a stage. "We will stay here peacefully," 32-year-old demonstrator Akin told AFP. "This is our new home."
Separately on Tuesday, the national police chief ordered the immediate deployment of anti-riot forces nationwide following increased attacks on police facilities, according to a police spokesman.