Akulira ekitongole ekya National Planning Authority, era Katwikiro wa Busoga Dr Joseph Muvawala alabudde ab'ekitongole ekirondoola omutindo mu ggwanga ekya Uganda National Bureau of Standards UNBS okukomya okusanyaawo business z'abantu mu kifo ky'okubayambako okuzikulaakulanya.
Muvawala abadde mu lukungaana olwa Busoga Sub Region investment Forum, ku Jinja civil service college olwategekeddwa aba Uganda Development Bank okwongera kungeri gyebayinza okutereezaamu ebyenfuna.
Muvawala agambye nti abantu bangi berwanyeeko okubaako ne byebatandika, nti kyokka ebitongole ebiteekeddwa okubalungamya bikozesa obukambwe obusukkiridde  nebaziggalawo mu kifo ky'okubalungamya nebakolera mu mateeka.
Rebecca Alitwala Kadaga omumyuka asooka owa ssabaminister era minister w'ensonga za East Africa ategeezezza nti amanyi gasaanidde okutekebwa kukutumbula ebyobulimi mu Busoga abantu bwebababa bakuva mu bwavu.
Kyabazinga wa Busoga Wilberforce Gabula Nadiope IV, mu bubakabwe bwatisse Osman Noordin Ahmed omumyuka owokubiri owa Katwikiro asabye abasoga okufuba okukolera awamu mubyenkulakulana.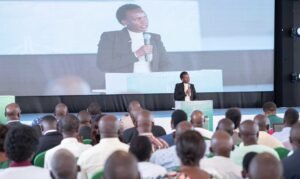 Patricia Ojangole, the Managing Director at Uganda Development Bank Limited, asabye abantu  okukolera business mu mateeka bwebaba nga baagala okuganyulwa mu ntegeka zokuyambibwako mu business.
Bisakiddwa:Kibuuka Fred