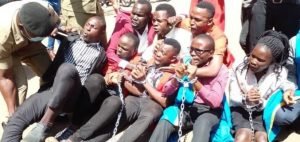 Five out of the 15 jailed University students have been granted a cash bail of 200,000 shillings each, by Buganda Road Court pending disposal of charges of unlawful assembly against them.

This followed a successful application by their lawyer Geoffrey Turyamusiima who pleaded with Court to have them released, because they have their final examinations tomorrow thursday.

The students are from different universities including Makerere, MUBS and Kyambogo.

They were arrested on Thursday last week at Parliament, allegedly protesting over the sky rocketing prices of commodities in the country.

The group denied charges of staging an unlawful assembly and were remanded to prison by Grade one magistrate Sienna Owomugisha.

The remaining 10 students will have their bail applications considered in the due course.